As an Amazon Associate we earn from qualifying purchases made on our website. If you make a purchase through links from this website, we may get a small share of the sale from Amazon and other similar affiliate programs.
When you're setting your edger, whether it's the first pass or a clean-out run, it's crucial to get the correct depth. Grass and other ground coverings have roots that go down into the Earth, as you know. And these roots need to be addressed if a consistent and clean edge is to find itself in place around your garden or lawn.
The appropriate depth adjustment can range from 0.5" to 3.5" for most machines. The maximum typical cutting blade diameter for an edger is commonly 9", which produces a standard edge cut of about 3" when set to the lowest depth.
Let's take a look at not only a few common edgers and their depths, but we'll also look at a few common types of grass and ground cover to ascertain the root depth. Knowing the root depth allows for a practical edge cut. So, grab your edger, and let's jump right in.
Common Lawn Edger Depths
Lawn edgers come in both gas and electric powered, in both hand-held and wheeled variations. As mentioned, the blades typically cut anywhere from about 2" to 4". The general rule to follow for approximate cutting depth maximum, based on blade size, may be estimated by using the following equation:
Blade Diameter ÷ 2 – 25% = Maximum Cutting Depth
For example, an edger that has a blade diameter of 9", divided by two is 4.5", less 20% of 4.5" = 3.6" maximum possible cutting depth (estimated).
Common Edger Depths
| | | | |
| --- | --- | --- | --- |
| Edger Brand/Model | Edger Blade Size | Maximum Cutting Depth | See Price @ Amazon |
| EGO Power+ ME0800 | 8" | 3" | Check Price |
| WORK WG896 | 7.5" | 1 ½" | Check Price |
| Scotts Corded Electric Edger ED70012S | 7.5" | 1 ½" | Check Price |
| Black & Decker LE750 Corded Edger and Trencher | 7.5" | 1 ½" | Check Price |
| Greenworks 12 Amp Corded Edger | 7.5" | 1 ½" | Check Price |
| Sun Joe Corded Edger and Trencher | 7.3" | 1 ½" | Check Price |
Ground Covering Plants (Lawns) Root Depth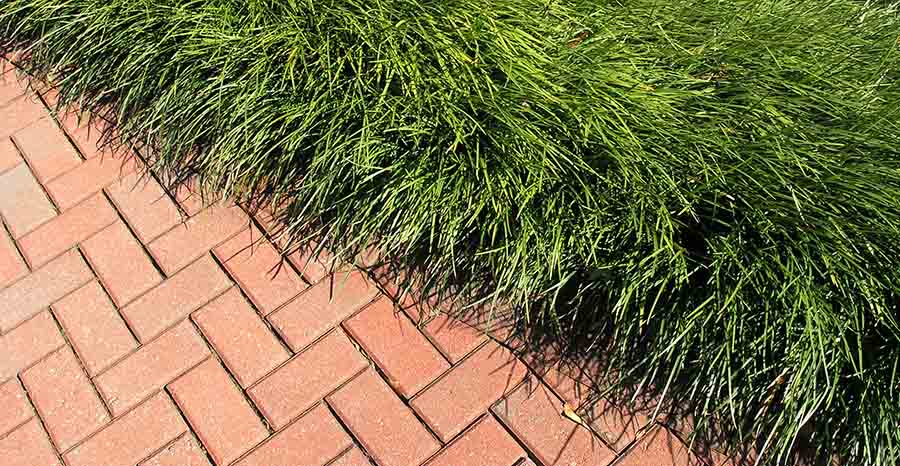 The most commonly used ground-covering plant in the United States is many different grass species lumped together into the term 'grass' for use on a lawn. As you know, Lawns can be a small patch on a small property or may cover entire fields for use in playing sports like Football and Soccer. Not to mention the outfield for the summertime game of Baseball is usually a form of grass we've lumped into the term 'turf.'
Most people know these grasses when it comes to defining the term lawn. And they come in a large number of different types, varieties, and species. However, typical properties usually have grass of one of several species:
Warm-Season Grasses
Bermuda Grass
Centipede Grass
St. Augustine Grass
Zoysia Grass
These common grasses do well in warmer weather and commonly reside in the southern states.
Cool-Season Grasses
Fine Fescue Grass
Kentucky Bluegrass
Perennial Ryegrass
Tall Fescue
These common grasses do well in colder weather and are typically occurring in the northern states.
Most turf, lawns, and their common grasses usually have roots from 6" to 8" in depth. However, an older, healthy lawn could have roots that go as deep as 24".
The roots of your lawn are going to go significantly more profound than your garden edger is going to cut. For this reason, a good and deep edge cut is a smart idea to help eliminate any possible spread of either lawn, weeds, or other plants.
FAQ – Common Lawn Edging Questions
How Deep Should You Edge Your Lawn?
According to Bob Vila, the ideal depth for edging is 2". However, most edgers only go 1 ½". That's why I like the Ego Power+ ME0800 8" Edger Attachment (link to Amazon) so much. Okay, it means you need to have the rest of the Multi-head system, but it's an incredible device that cuts to a fantastic depth of 3" – leaving other edgers in its wake.
How Deep Do Lawn Edgers Go?
Most common lawn edgers only cut to a maximum depth of 1 ½". With a preferred depth of 2", it means that most edgers don't 'make the cut' – so to speak.
Is It Better To Edge Or Mow First?
Mowing is best to complete before edging a lawn. It improves the edger operator's ability to see where they are cutting. The added ability to see due to no long grass blocking the view allows for an enhanced finished result.
How Can I Edge My Lawn Without An Edger?
Lawn maintenance includes cutting a nice edge around a lawn. The best equipment to use for lawn edging is a power edger. But if you have a small yard or you find yourself strapped for cash, then there are tools you can use to frame your lawn manually.
Check the price here on Amazon
The garden slayer is one such mechanical edging device. This cool tool cuts down through roots with ease, allowing you the most comfortable possible manual edging experience.
The downside to using a hand-tool like this for edging comes into play when a larger or longer edge is required. The manual edgers such as these may work better than any power tool, but they are a significant amount of work too.
Three things stand out with this edger. First, and obviously, is the aggressive blade design. This blade is proper to form – it cuts smaller roots and weeds with ease. I found that the system did get caught up on a ½" tree root, though, and it took some extra effort to clear the path.
If the edge required is a small to medium-sized lawn or garden edge, this tool will work very well, given your manual labor requirement is up to the test.
What Is The Best Walk Behind Edger?
The Earthquake 23285 Walk-Behind Landscape and Lawn Edger.
Check the current price here on Amazon
What's not to like about this machine?  And with a cool name like Earthquake, how couldn't we take a look at this one?  Several features make this machine stand apart from others:
Variable depth 9" cutting blade can cut from 0.5" to 3.5"
Chain skirt and debris guard protect the operator
Four wheels keep this machine stable and easy to maneuver
The handy tool carrier on the handle lets you work efficiently
70 to 110-degree cutting angle
5-Year limited warranty
Not many tools these days come with a 5-year limited warranty. Earthquake is providing us with a robust machine, and by the length of the warranty, I'd say they're willing to stand behind their product.
66% of the reviews on this machine landed in the 3-star category. That says something about a tool, doesn't it? 
I agree the Earthquake edger is as robust as it is powerful. As long as you don't mind the maintenance involved with a gas engine, you'll love this machine and what it can do to make a beautiful cut edge – with your safety in mind.
What Is The Best Hand-Held Edger
I showed you the Radius Garden Root Slayer Edger above – it's one of my top choices for a manual edger. But it isn't the only option. There is also the exciting invention of the rotary hand-held lawn edger.
Check the current price here on Amazon
These edgers have a spinning blade that spins with the wheel as you push it along your lawn.
Although some people swear by these edgers, they don't work well in stony clay-compacted soils. And wet soils do not allow this tool to function very well either.
However, in average soil conditions, when the soil is dry, this tool works moderately well. But, be expecting to go over and over a location several times until it cuts enough of an edge. The tool will also cause a narrow area of your grass along the edge to be 'rolled' by this device's wheels.
Okay, so this rotary edger is pretty cool, but it's only a runner-up. Our favorite hand-held edger is:
AMES 39" Saw-Tooth Border Edger
Check the current price here on Amazon
There are several reasons why I choose this as my favorite hand-held edger. Here are the reasons why this one takes the prize:
Convenient t-handle makes cutting through things like tough roots a breeze
Toothed cutting blade takes on the most challenging roots – even tree roots
Blade depth allows for a preferred edge depth of your choice
Heavy-duty construction means this tool won't require replacing anytime soon.