As an Amazon Associate we earn from qualifying purchases made on our website. If you make a purchase through links from this website, we may get a small share of the sale from Amazon and other similar affiliate programs.
You are a graduating high school student and are starting to consider what college degree to take. At the same time, you are good at drawing buildings and gardens. In this case, you may ask yourself if it would be hard for you to take a degree in landscape architecture.
Taking landscape architecture as a degree is a straightforward but difficult undertaking. It requires hard work and inspiration to tackle the challenges of completing this degree.
This article will discuss the challenges in taking landscape architecture as a college degree. We will touch on the schools that offer landscape architecture and provide a list of the best educational institutions in the US for this degree and the typical topics included in this degree program. We will also discuss some of the frequently asked questions in taking this degree.
Steps in Becoming a Landscape Architect
So, you have decided to take the challenge of building a career in landscape architecture. Before you venture into your career, you must first complete a bachelor's program in landscape architecture from an accredited educational institution. There are two degrees that are currently available: a Bachelor in Landscape Architecture (BLA) and a Bachelor of Science in Landscape Architecture (BSLA).
To pursue a bachelor's degree in landscape architecture, you should have completed high school or passed the General Educational Development tests (GED). Most colleges and universities require a minimum GPA or SAT/ACT score to be admitted to their program.
Landscape architecture graduates recommend obtaining the degree at the nearest educational institution. This is because employers tend to get applicants who graduated from the same school as them.
Completing your degree does not guarantee you can practice what you learned. You have to take the computerized Landscape Architect Registration Examination (LARE) if you wish to put all the learnings to practice. Each state has a different prerequisite before taking the exam, so you may want to check the rules first before applying to take it.
You may also want to apply what you have learned in school by applying for an internship at a company that specializes in landscape architecture. The number of hours required to complete an internship differs from school to school. As an example, Florida International University (FIU) requires its students to complete at least 140 hours of internship under the supervision of a licensed landscape architect.
Where To Take Landscape Architecture Degree Programs
Aside from six states, there are schools across the United States that offer landscape architecture as part of their curriculum. You can check the list provided by the American Society of Landscape Architects (ASLA) to see if there is a college or university that offers landscape architecture near you.
Best Educational Institutions That Offer Landscape Architecture Degree Programs
Here are the top ten best educational institutions that offer landscape architecture degrees in the United States according to College Factual:
Cornell University (New York)
Harvard University (Massachusetts)
University of California – Berkeley
California Polytechnic State University – San Luis Obispo
State University of New York College of Environmental Science and Forestry
Purdue University (Indiana)
University of Wisconsin – Madison
University of Florida
Rutgers University – New Brunswick (New Jersey)
University of Georgia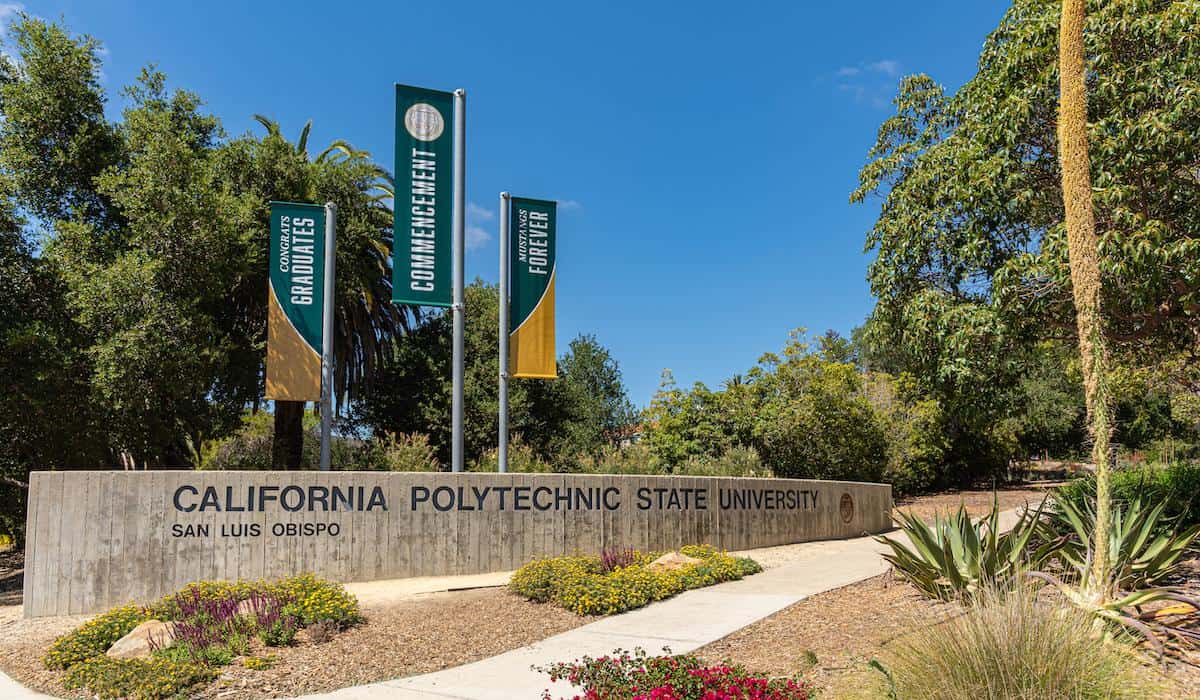 What To Study in Landscape Architecture
Landscape architecture degree programs usually have mixed lecture and laboratory classes to help you develop your skills. Apart from general college courses, here are some common topics that are covered in various landscape architecture degree programs:
Cultural landscape
Visual arts
Environmental studies
Park planning
History of public spaces
Technical drawing
Geometry
Algebra
Trigonometry
Architectural design
Floriculture
Ecology
Engineering
Biology
Climatology
Historic preservation
Site planning
Horticulture
Topography
Geography
Urban planning
Botany
If your school has the resources, you may also learn using the following computer tools while studying landscape architecture:
Autodesk AutoCAD
Adobe Creative Suite
Sketchup
Revit
BIM
GIS
Rhino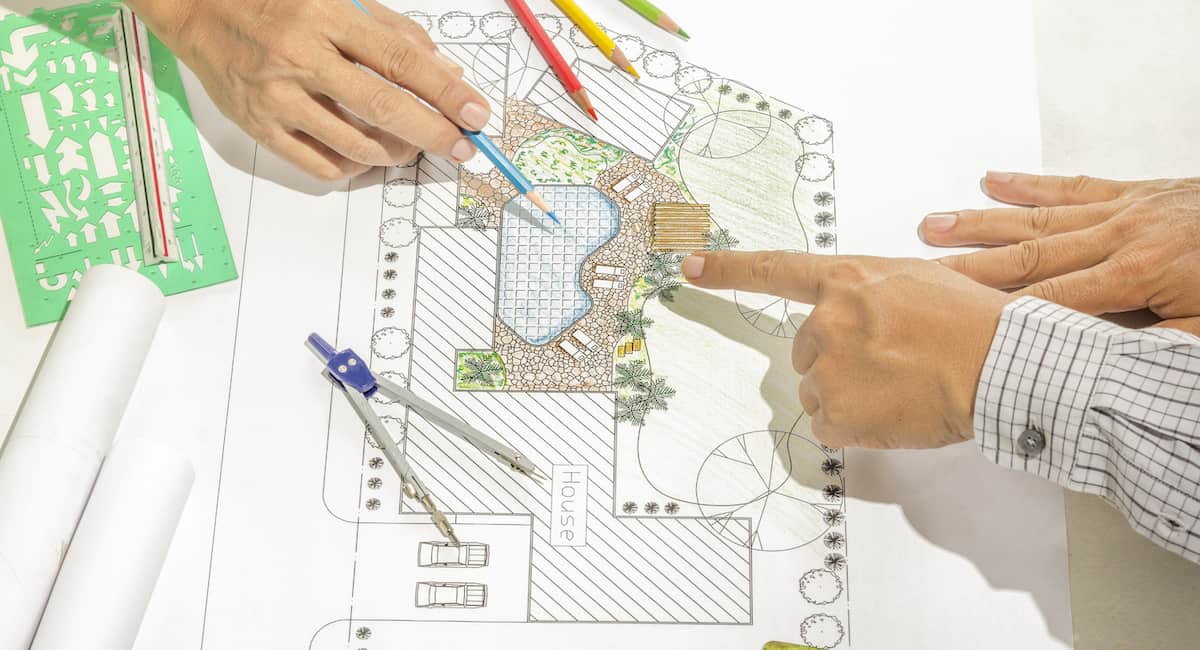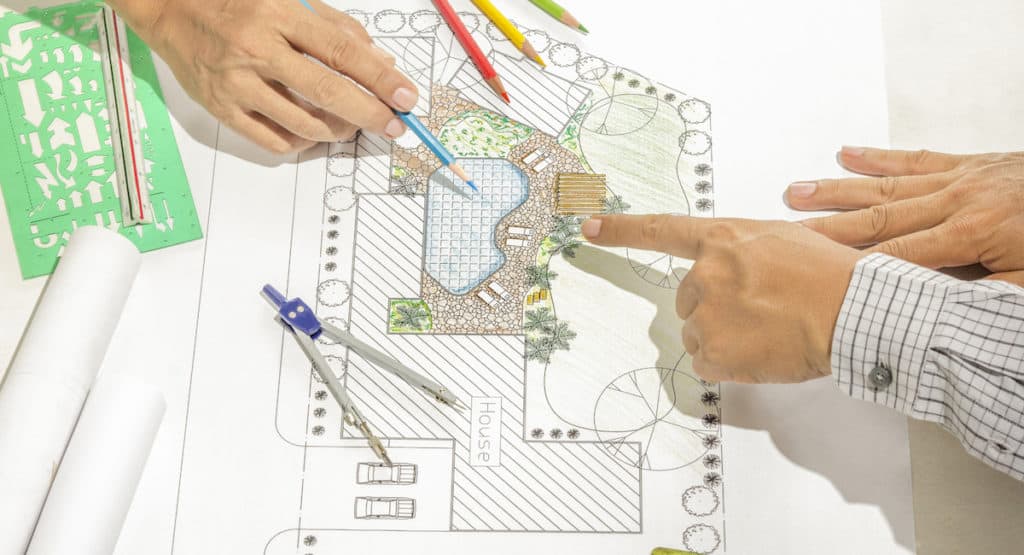 Frequently Asked Questions
What Is the Difference Between Landscape Architecture and Architecture?
Architecture is focused on developing the design of buildings like houses or skyscrapers. Landscape architecture mainly focuses on the design of the area outside the buildings, which includes green spaces, road alignment, and drainage.
Do I Have To Be Good at Drawing To Apply for a Landscape Architecture Degree?
While having good drawing skills is beneficial, you don't have to be good at drawing to apply for a landscape architecture degree. Schools offer courses to teach their students how to draw.
However, it is vital to develop this skill over time so you can build a portfolio that you can show to your prospective employers once you graduate.
I Want To Take Landscape Architecture. Is It Worth Taking an Associate Degree in Architecture To Get Started?
Taking an associate degree in architecture is not worth it if you're planning to take landscape architecture in the future. Since architecture-related courses are offered, you may want to take a landscape architecture degree instead.
ASLA-accredited schools follow a set of guidelines in their curriculum to keep their accreditation status, so any subjects from an associate degree may not be credited. If you are currently enrolled in an associated degree, you can consult a counselor first to explore your options.
What Minor Subjects Are Best Taken for a Landscape Architecture Degree?
Taking art or environmental science subjects along with the major courses in landscape architecture is recommended to enhance your skills. You can also take finance and business-related courses if you plan to build your firm.
Will There Be Job Opportunities for Me After Graduating With a Landscape Architecture Degree?
There are many job opportunities for those who will complete a landscape architecture degree. There are numerous government agencies that hire landscape architects, including the US Forest Service, the National Park Service, and the Department of Transportation.
Landscape architects are also involved in the design of private residential and commercial buildings. However, some say it takes a while before landing a job.
Final Thoughts
Taking a landscape architecture degree is hard unless you put your heart into studying it. You have to consider your options first before applying to enroll in schools that offer this program.
Make sure you enroll in an educational institution near you that has an ASLA-accredited program to ensure there will be no issues when taking the LARE.
Are you a landscaping enthusiast and want to help me grow Landscapingplanet.com? I am looking for writers! Just send me an email at
[email protected]