As an Amazon Associate we earn from qualifying purchases made on our website. If you make a purchase through links from this website, we may get a small share of the sale from Amazon and other similar affiliate programs.
Fertilizer is an organic or inorganic material of natural or synthetic origin that is added to soil, compost, or fertilizer to supply one or more plant nutrients essential to the growth of plants. Did you ever fertilizer your lawn and shortly after your lawn had some yellow patches or lines? That's fertilizer burn!
Fertilizer burns grass when it's applied incorrectly. This is primarily due to mineral salts, which are the basic components of chemical fertilizers. For example, if you over-fertilize, minerals accumulate and dry out in the soil, resulting in yellow or brown grass and fertilizer burn.
In this article, I'll discuss what happens to plants when they experience fertilizer burn, how to prevent it, and how to fix this problem when it happens.
What Happens to Grass Experiencing Fertilizer Burn?
When grass experiences fertilizer burn, it results in a loss of chlorophyll and cell death in the blade that turns yellow, brown, or even burnt looking. It might also become very thin and spottily colored. This typically is caused by too much fertilizer being applied and can even kill the lawn.
The soil around the fertilizer zone may appear white or gray. This can also lead to moss growing in this area since accelerated turfgrass growth due to over-fertilizing encourages moss growth.
Using excess nitrogen can lead to more problems since it will kill off beneficial soil microbes and encourage the growth of pathogens that causes root rot. Mineral buildup near the surface is especially tough on lawn grasses with extensive systems of shallow root growth.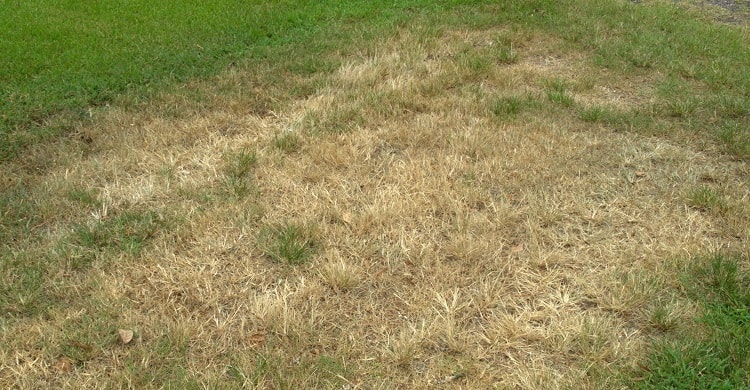 What You Can Do To Help the Lawn To Heal and Get Green Again
If your lawn is experiencing fertilizer burn, stop fertilizing it and let the grass recover. Until this phase has ended, grass recovering from fertilizer burn will appear straw-like, dull green, wilted, or even dead in spots.
The lawn may never fully heal if the source of over-fertilization isn't removed. In most cases of intensive over-fertilization, the only solution is to re-seed affected areas with new sod or seed once the damage has been repaired.
Fixes for burned lawns may include watering more to leach the salts from the ground, fertilizing with a fertilizer containing lower percentages of nitrogen and potassium, or installing new grass. Ultimately, lawns with fertilizer burn require a generous amount of water to get back to normal. You may need to soak the affected areas for an hour every day for about a week. Once the lawn begins to green up again, you can resume your normal watering schedule.
Keep in mind, it's best to act quickly at the first sign of spotting or discoloration before things get worse.
Tip: I've written in-depth articles about why plants need nitrogen, phosphorus and potassium. Check them out!
7 Common Causes of Fertilizer Burn
Fertilizer burn can happen to all types of plants. It's particularly common in Kentucky bluegrass and St. Augustine grass since they're fairly shallow-rooted, and fertilizer that's applied too close to the surface can easily damage these types of grasses.
Fertilizer burn occurs due to an excess of nitrogen and potassium. These two elements convert quickly to salts that injure plant cells, causing burn symptoms.
Salts or ions in fertilizers include:
Ammonium
Potassium
Calcium
Magnesium
Sodium chloride
These salts accumulate in the top layer of soil. A high concentration of these minerals causes "salinity stress."
I've written two articles about fertilizers high in nitrogen and potassium, check them out to see if the fertilizer you applied is on the list.

Let's take a look at some of the common causes of fertilizer burn:
Over Fertilization
Overfertilization is the top cause of fertilizer burn to grass. This happens when too much fertilizer is applied to the lawn. It can also happen if you use a slow or controlled-release fertilizer. One of the most common ways that people over-fertilize their lawns is by using a fertilizer containing too much nitrogen. While nitrogen is great for the lawn, it can be overdone.
If you're fertilizing your lawn with a slow-release type of product, then it may take some time before the damage from overfertilization shows up in your grass. In addition, if you get an early spring start on fertilizing due to warmer temperatures and increased sunlight, there's a good chance you'll end up creating fertilizer burn without realizing what happened until it's too late.
Typically, this happens when you apply more fertilizer than the label recommends or simply not following the label guidelines at all.
Miscalculating the Size of Your Lawn
When measuring the area of your lawn, make sure to account for slopes and any angled areas, including patios, walkways, driveways, etc. To avoid miscalculation, begin with the perimeter measurements, then deduct non-grass areas, including your house, outbuildings, and driveways.
Miscalculating this measurement is a common mistake that can affect the overall health of your lawn. People often miscalculate by forgetting to deduct non-grass areas from the total, resulting in a fertilizing application that's too high.
Accidental Fertilizer Spillage
Hauling around bags of fertilizer can prove tricky business, if you're not careful. When uploading, keep an eye on where your bag is so you don't accidentally drop it onto sensitive areas of your lawn.
One common problem is spilling fertilizer while trying to get it from the bag into your spreader or hose-end sprayer. When the spreader hopper is open during filling, stopping, or changing, fertilizer may spill. Unless you seal the hopper after filling, stopping, or turning your spreader, fertilizer will continue to pour out. Every pile of fertilizer represents a risk of fertilizer burn.
Another common occurrence is for the bag to accidentally drop on the lawn and spill onto your grass. It's important to watch for spilling fertilizer and clean up any mishaps as they happen. Be sure to pick up any solid waste that may have fallen out of bags during the application, then use a rake or leaf blower to remove all dry matter from your lawn.
Nitrogen Toxicity in Grass
Overfeeding with nitrogen leads not only to potassium deficiencies but also to nitrogen toxicity. This is more likely to happen when you use a water-soluble fertilizer.
Before applying plant food, test the soil for phosphorus and potassium content. This way, you will know how much of these nutrients are already in the soil (so you don't add too much nitrogen). You can get a home test kit or hire someone who does professional testing for this purpose.
Nitrogen toxicity causes grass blades to become light-green; eventually, they turn yellow. If left untreated, the yard becomes brown and dies. It's important that weeds don't take hold in dead areas of your yard because their root systems can go deeper than that of your grass, allowing them to compete with your grasses for nutrients.
Not Measuring Fertilizer Quantities
One of the easiest ways to burn your grass with fertilizer is to fail to measure it correctly, or at all! When fertilizing individual plants, especially with direct application, there's a greater danger of burn bypassing a measuring cup.
Dedicate a set of measuring cups to gardening nutrients in order to avoid this problem. Take the time to measure the solution before you apply it, so you don't make any mistakes and only use the proper amounts of fertilizer for your plants.
When using commercial fertilizers,always read the label carefully and follow the manufacturer's instructions for water and fertilizer quantities. Every bag will list out specific instructions on how much fertilizer should be used given certain conditions like soil type or plant size. Also, know that some types of fertilizers are compatible while others aren't, so you must be careful when combining them.
Keep in mind, you may need to apply it several times throughout the growing season if your soil doesn't contain much in the way of nutrients for plants. Fertilizing too heavily can cause damage to roots, stunted growth, or even kill the plant.
Improper Timing of Fertilizer Application
In some cases, the burn is caused by applying fertilizer too close to a watering session. This can be as simple as putting down fertilizer immediately before you water your plants or vice versa. If you fertilize within twenty-four hours before or after a watering session, you risk causing damage to your grasses.
When fertilizing around a watering time, apply water first and then delay your nutrient application for at least 24 hours.
Check out my detailed article about when to apply water when fertilizing your lawn.
Fertilizing Dry or Stressed Grass
If your lawn is excessively dry or if you've had a dry spell and the grass is stressed, adding fertilizer can be too much for it to handle. During times of drought or stress, your grasses need water above all else. When you add water and nutrients during this time, it's possible to cause damage to your lawn.
Fertilizer doesn't work properly when plants are stressed as a result of sickness, poor soil, or harsh weather conditions. Rather than assisting, fertilizer can exacerbate the problem. When optimal circumstances resume, you can resume fertilizing.
How To Fix Fertilizer Burn on Grass
If your lawn has too much nitrogen, it will quickly turn brown or develop orange or yellow spots. This can be difficult to reverse, so the sooner you catch it, the better. Once the grass has been severely burned, there's typically no turning back, so stop using any products containing phosphorus and potassium immediately.
Let's look at a few ways to fix fertilizer burn.
Water Your Lawn
The best way to fix grass that's been burned by fertilizer is by watering it immediately. This process is simple; you need to soak the entire affected area of grass thoroughly. To do this, it's best to set up your sprinkler system so it covers the entire affected area without disturbing the soil surface any more than necessary. If the grass remains yellow after this process, you may need to re-seed it.
Watering your lawn will help to rid the soil of the salt build-up from over-fertilization. If the salt has been allowed to build up for a long time, you may find that it takes several days or even weeks of watering before your grass begins to turn green again.
Check Your Lawn's Roots
Check the roots of your grass to make sure they're still alive and healthy. If the roots are moist, flexible, and seem to be in good health, you might be able to save the grass. If the roots appear to be dead and brittle, it's likely that you'll need to remove the grass and reseed it.
Use a shovel to take a small section of soil from the area affected by the burn and apply fresh topsoil over the dead grass, so new seeds have a chance to germinate.
Remove the Old Grass
If grass roots aren't revived by watering, they likely aren't coming back. At this point, you'll need to remove the dead grass and apply fresh topsoil to the area. Save yourself some time later by taking the time now to rake the topsoil smooth and better prepare for seeding or sodding.
To remove old, fertilizer-burned grass from your yard, follow these steps.
Use a spade or other garden tool to dig up the dead grass and remove as much soil as possible.
Use a sharp hoe to scrape away any excess bits of dead grass.
Rake up all of the dead blades from your lawn and dispose of them immediately so they don't return as a breeding ground for pests or disease.
Apply fresh topsoil to fill in the holes where the grass was removed and loosen compacted soil with a shovel or rake.
Spread grass seed or lay sod, then water to keep moist until new growth appears.
Sod will be the easiest and quickest way to replace the grass, but you can also use seeds. Follow the instructions on the packet to know whether to spread by hand or with a fertilizer spreader. If using sod, be sure to work it into your soil so that roots can grow rapidly and firmly take hold. Let's look at the different details of both options:
Sow New Grass Seed
Once your soil is loose and ready for new seeds, you can sow them by hand or use a spreader (set to 1/2″ apart). If you're sowing by hand, place enough seed in the affected area so that when it's thoroughly covered with topsoil, there are about 6-8 seeds per square foot of soil.
After spreading the seeds, water them again to ensure they have enough moisture to germinate. Once they begin sprouting, keep your lawn well-watered until it's well established.
Seed has just one advantage over sod-it costs less. With water rates skyrocketing and lawns taking more than their fair share of it, seeding your lawn to save money. The process for growth is much slower, but if you're on a budget, this may be the most cost-effective way to go.
Sodding Grass
If you're sodding, keep in mind that it takes 7-14 days for the sod to establish roots before your lawn can support regular traffic and waterings. Once the grass is laid down, keep it watered until it's established (you can test if it has rooted by gently tugging on a corner of sod).
After two weeks, you should be able to begin mowing and watering as normal. Sod requires a good deal of water, so that may need to be increased until you see your lawn is holding its own.
Sodding has the advantages of quick results and the ability to provide a lawn suited to your specific needs (e.g., shade, grass type). However, the process is more expensive than seeding and requires more time before you can walk on it.
How Do You Prevent Fertilizer Burn?
The goal is to prevent fertilizer burn before it happens. The best way to do this is to apply fertilizer in moderation.
You can prevent fertilizer burn by applying the fertilizer in moderation. Applying too much fertilizer depletes essential nutrients from the soil, especially nitrogen. It's best to start with half the recommended rate of fertilizer to ensure the grass receives just enough nutrients to thrive.
Here are a few ways to prevent fertilizer burn:
Fertilize according to needs and instructions: Fertilizer recommendations are given for a reason. Follow the instructions on the package to prevent over-fertilizing.
Water well after fertilization: Watering after you've applied fertilizer is essential to its proper absorption and distribution throughout the soil. Without water, fertilizer will not be able to penetrate dry spots or be taken up by plants; instead, it will sit on top of the soil (or damage grass) until it evaporates.
Slow-release fertilizer: Slow-release fertilizer reduces the risk of fertilizer burn by releasing the salts into the soil gradually rather than all at once.
Fertilizing with compost: Using compost eliminates the risk of fertilizer burn. Compost contains a host of micronutrients and microorganisms that improve the composition of the soil, making it much more hospitable to grass.
Fertilizing with organic fertilizers: Using organic fertilizers eliminates the risk of fertilizer burn. These fertilizers are less concentrated than synthetic (chemical) alternatives and often contain other ingredients such as nitrogen-rich manures or kelp extracts that condition soil for improved plant growth.
Are you a landscaping enthusiast and want to help me grow Landscapingplanet.com? I am looking for writers! Just send me an email at
[email protected]
.