As an Amazon Associate we earn from qualifying purchases made on our website. If you make a purchase through links from this website, we may get a small share of the sale from Amazon and other similar affiliate programs.
Planting Evergreens is an excellent way to brighten up and color any garden. They're a popular choice since they remain colorful all year round, and they're pretty easy to grow.
Here is a list of 12 easy-to-grow evergreens:
Photinia (Red Robin)
Prunus Lusitanica (Portuguese Laurel)
Clematis Armandii
Arborvitae
Choisya
Ceanothus
Arizona Cypress
Magnolia Grandiflora
Monstera Deliciosa
Pittosporum Tenuifolium
Ilex Aquifolium
Murray Cypress
The rest of this article will discuss these Evergreens in greater detail, so keep reading to learn more.
1. Photinia (Red Robin)
Photinia Red Robins are beautiful large shrubs laced with green and red foliage. They are also known as Photinia Red Tips and are the most common type of Photinia. The red leaves are vibrant for the first few weeks, but they gradually fade to green.
This evergreen grows small white flowers during spring, followed by the growth of red berries. Since it's a fast-growing shrub, it's an excellent choice if you're looking for a quick garden fix.
It is easy to grow because it works with most soil types, but well-drained soil is preferable for this shrub. Additionally, you can grow Photinia Red Robins throughout the year because they are hardy plants. They are susceptible to frost damage, however. 
The most common disease in Red Robins is a fungal infection, leaf spot. It would be best if you always looked out for small, red spots on your Red Robin so that you can act fast and remove the damage. 
Tip: During winter, pruning this Evergreen is the best way to prevent fungal attacks, such as leaf spot. Aeration is another essential component if you want to keep your Red Robin free from fungus. Shrubs that are too close together are more susceptible to leaf spot.
2. Prunus Lusitanica (Portuguese Laurel)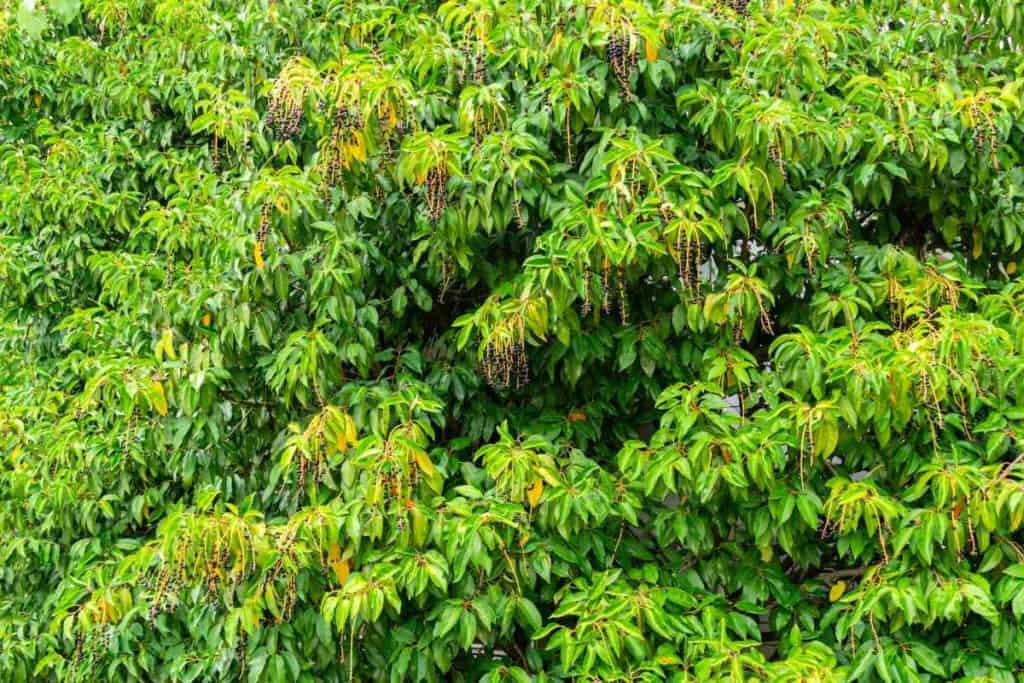 The Portuguese Laurel is vibrant green and can be grown as a hedge, bush, or tree. Like the Red Robin, the Portuguese Laurel also grows well in most conditions, but it won't like extremely wet soil; well-drained soil is best.
This evergreen is sturdy and refined, so it can be pruned into different shapes if you wish. The average height of a Portuguese Laurel is between 20-30 feet (6.09-9.14 meter), so it's quite a tall plant.
To plant a Portuguese Laurel, you should:
Dig a hole in the soil that is a little bigger than the root. Since it likes full sun, you should aim to plant it in an area that gets the most sunlight. However, partial shade is okay. 
Cover with soil. Once you've planted the root, you should cover it back up with soil. You should compress it down as much as possible to avoid air pockets.
Water regularly. Once planted, you should water the Portuguese Laurel regularly, especially if there is no rain. This will keep it healthy and help it grow faster.
Tip: You should feed your Portuguese Laurel for the first few years after flowering. Use an organic fertilizer like bone meal to help your Laurel grow. There's generally no need to feed your Laurel once it's fully grown, however. 
3. Clematis Armandii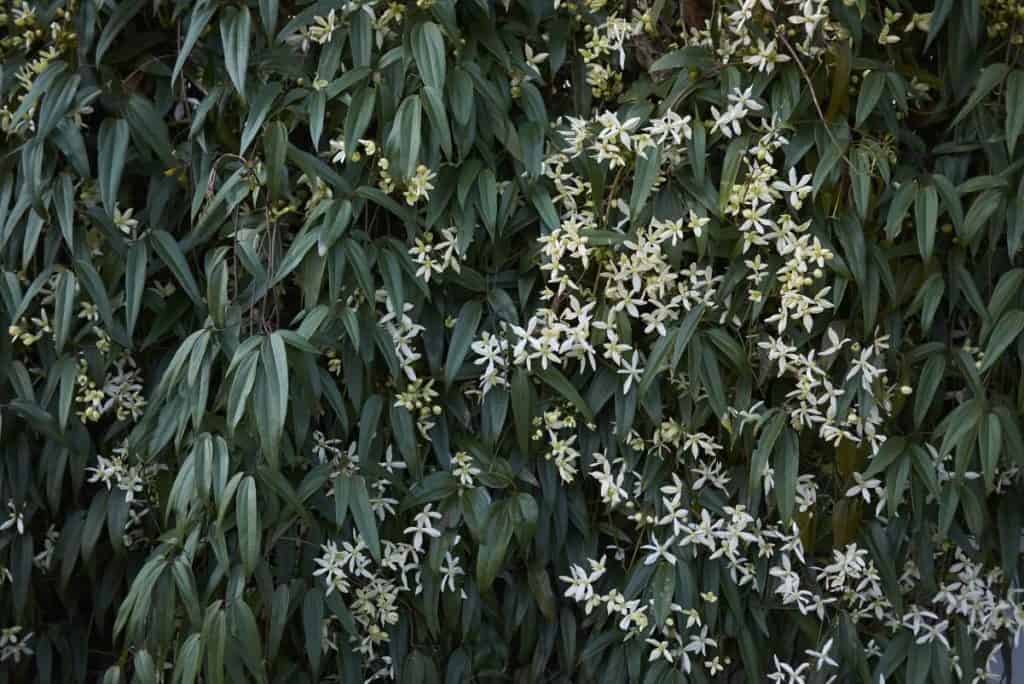 Clematis Armandii features beautiful deep green leaves with pleasantly-scented delicate white flowers scattered throughout, so it will give life to any garden. This evergreen does best in warmer weather, so you should only grow it if your garden is warm and sheltered.
It grows best in well-drained soil, but it should also be somewhat moist. Pruning this evergreen isn't necessary, but you may need to prune from time to time to maintain the desired look.
Clematis Armandii evergreens require support at all times, so you'll need a trellis and twine to help keep them upright. They also attract pollinators, so they're an excellent choice for a garden if you're looking to attract bees and other pollinators to the surrounding plants.
A Clematis Armandii evergreen can flower in the first year once it's been taken care of and grows in the best conditions.
Tip: Although pruning isn't necessary, you can shear your Clematis evergreen during spring once it has bloomed; this will keep it looking fresh and tidy.
4. Arborvitae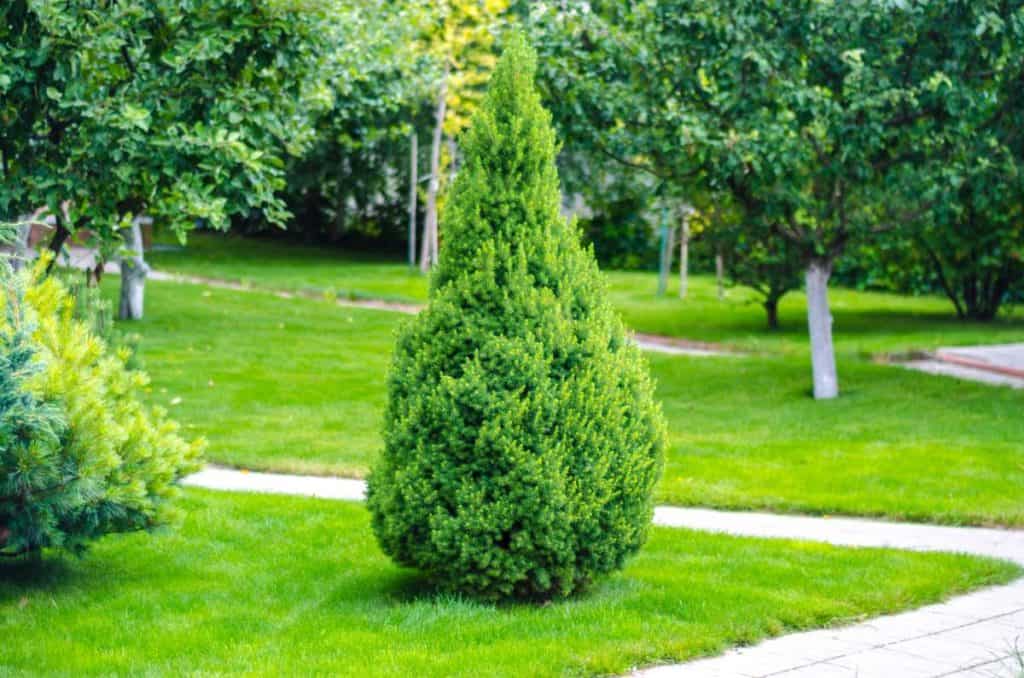 The image of a fully-grown Arborvitae is likely what many people think of when they hear the word 'evergreen.' They have an iconic, pyramid-like shape and bring character to any garden.
These evergreens can be grown as trees or shrubs and are perfect to create privacy in a garden. You can choose different sizes, so you don't have to worry about them overgrowing.
Arborvitae evergreens are fast-growing and low maintenance, which is why I had to include them on this list. They grow well in many regions, but well-drained soil is essential to produce a healthy, vibrant Arborvitae.
It's best to fertilize an Arborvitae evergreen in early spring, and it will need eight hours of sunlight a day. It will generally do well during winter, but it's good to wrap it to prevent frost damage using burlap wrap.
If you decide to plant this evergreen, you should do so in an area that receives sunlight. Being in constant shade will thin out the foliage, which doesn't look the best. 
Tip: Dig at least twice as deep as the root ball when planting because the roots will grow a lot and need space to spread. It would also be best to dig twice as wide as the root ball.
5. Choisya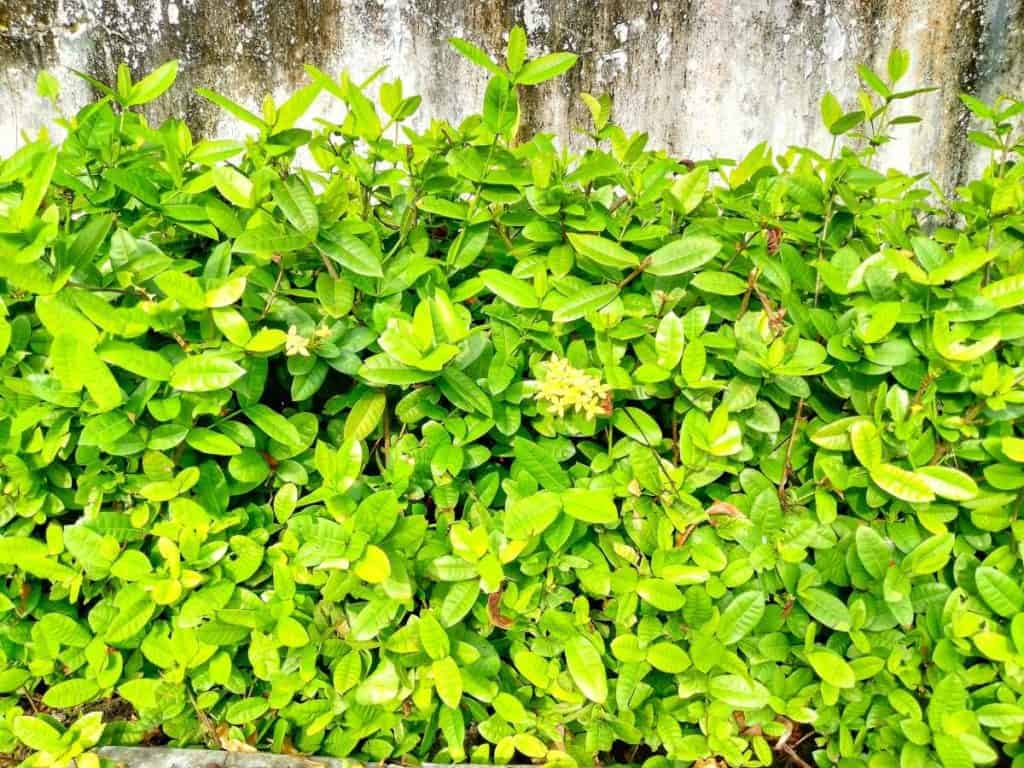 The Choisya evergreen shrub is a brightly colored plant with a sweet scent during summer. It is another evergreen shrub that is low maintenance and easy to grow. It prefers well-drained soil, so you should always avoid waterlogged soil.
They're more likely to bloom if they're in full sunlight, but partial shade is okay. Additionally, they do pretty well in cold conditions and can tolerate temperatures as low as 26 °F (-3 °C).
Choisya shrubs are ideal for hedges, making great privacy screens in gardens. Once they've flowered, you should prune them to promote additional blooming. They won't do well in droughts when they're young and still growing. However, they build a slight tolerance to this once they're fully grown. 
Tip: You should plant your Choisya in full sunlight if you live in a cooler region. However, if you live in a hot area, it's best to grow it in partial shade. Never plant it in full shade as it likely won't bloom or may only bloom slightly.
6. Ceanothus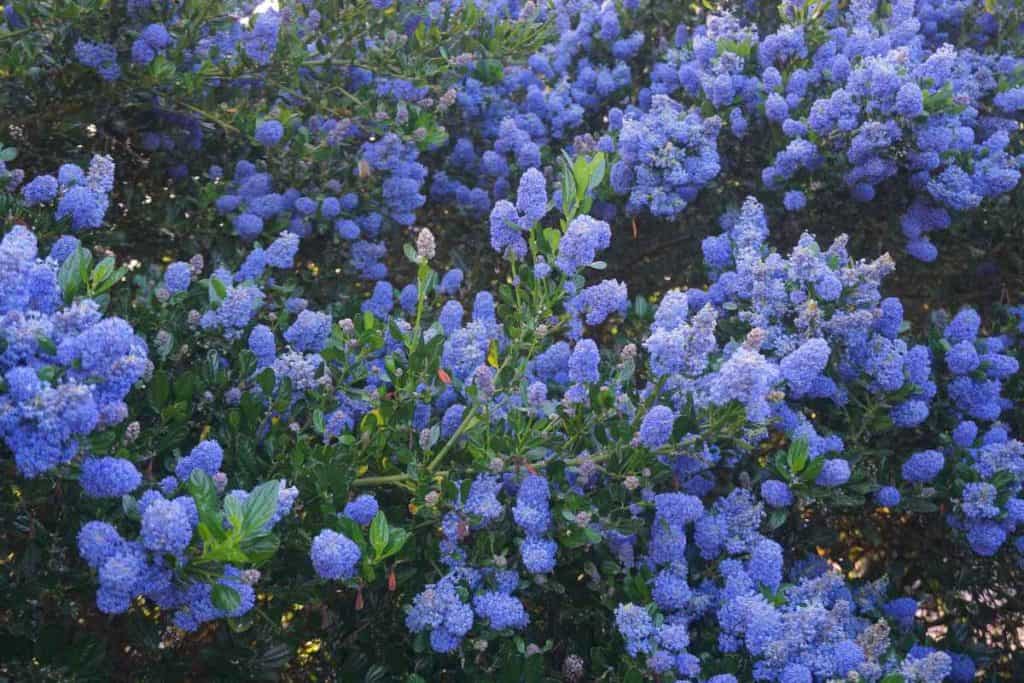 Ceanothus, also known as California Lilacs, are native to California. If you're looking for an evergreen with a vibrant pop of color, you should certainly consider this one. Ceanothus can be grown as shrubs or small trees and are perfect in many gardens. 
This shrub requires very little maintenance, so it's super easy to grow. It usually blooms in late spring to a gorgeous blue color, but other Ceanothus shrubs bloom in different colors.
Ceanothus shrubs thrive in well-drained soil, so be sure to pack in some well-rotted manure before planting. It doesn't grow well in heavy clay soils, so you should always avoid planting in these conditions.
If you decide to plant one, you should plant it in a spot that doesn't get much wind. Although these shrubs are hardy and can deal with lower temperatures, they don't fare well in windy conditions.
They generally grow 4-12 feet (1.21-3.65 meter) tall, so they're medium in size. Most people choose to plant Ceanothus evergreens in their gardens because of the vibrant colors when they bloom.
Tip: Fertilizing Ceanothus shrubs isn't necessary, but it's a good idea to do so each spring after pruning. You should use fertilizer and then layer over with mulch, such as well-rotted manure, once a year after pruning.
7. Arizona Cypress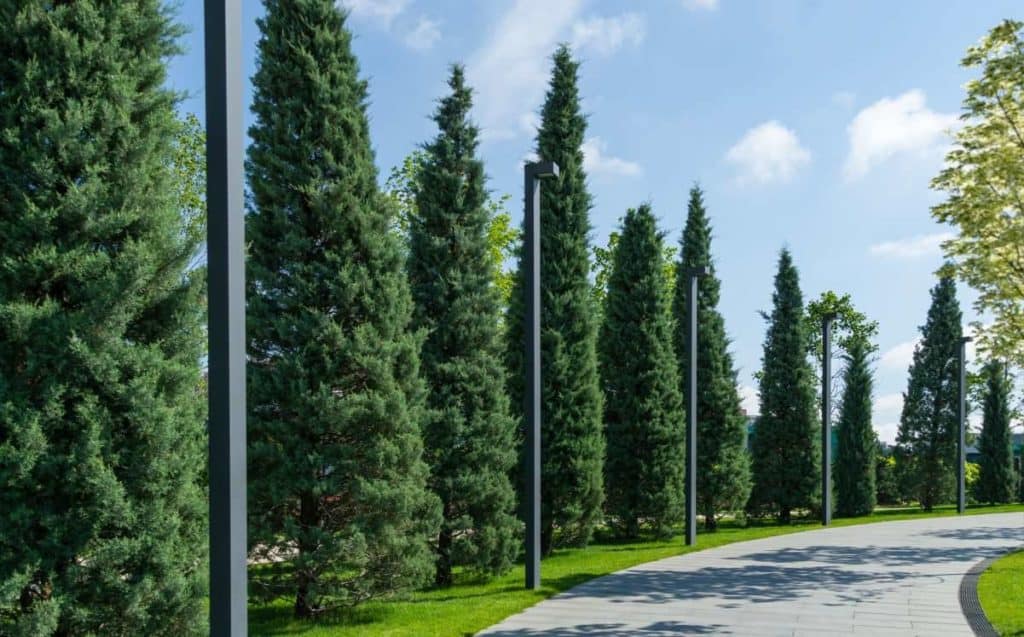 The Arizona Cypress is a large evergreen, suitable for areas with more space. You likely wouldn't want to plant this evergreen near a neighbor's yard because it can get quite large, and they may complain about sunlight being blocked.
Across North America, the Arizona Cypress is commonly cut down and used as a Christmas tree, but you can also leave it to grow in a garden throughout the year. 
The Arizona Cypress grows well in heat, but it also does well in cold conditions. Not only that, but it's primarily drought-resistant, so you don't have to worry too much about dehydration. 
Although it is drought resistant, it still needs between 10 and 12 inches (3.04-3.65 meter) of water per year to stay healthy and thrive. Watering it regularly in small amounts is the best way to maintain the Arizona Cypress.
The soil should also be well-drained; the Arizona Cypress won't do well in waterlogged soil. Pruning is generally not necessary unless you use it as a hedge or need to cut back some branches. Be careful not to cut anything off by mistake because many parts won't grow back, and you may be left with bald patches forever.
Tip: This tree is great if you're looking for a tall, strong windbreaker, and it also helps prevent erosion. Plant it in a high-wind area to help block out the heavy wind.
8. Magnolia Grandiflora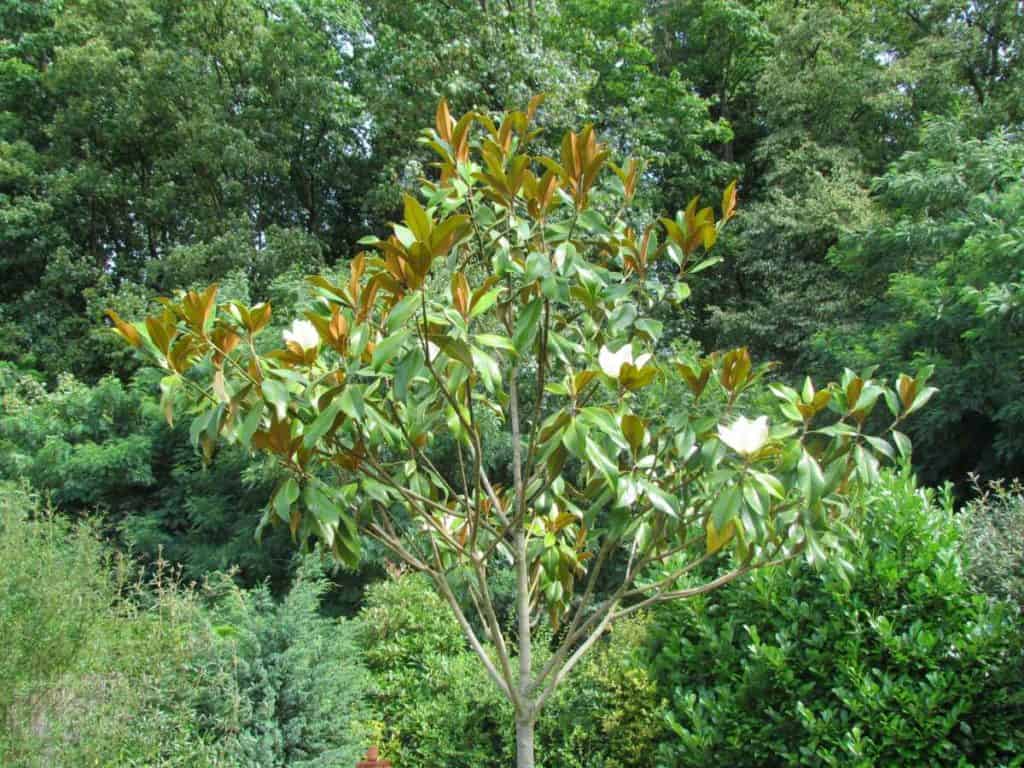 The Magnolia Grandiflora is a beautiful tree or shrub that features pretty white flowers. It generally tends to flower in late summer and gives any garden a delicate look. It's easy to grow because it's hardy and can tolerate different temperatures, but it can be slow-growing.
It's best to plant it in full sun, but partial shade should be okay, too. If you plant it in full shade, it will likely grow thin and may not bloom. Additionally, moist and well-drained soil is best for the Magnolia Grandiflora along with organic matter like compost or manure.
Although these trees are easy to manage, they are a long-term investment. It can take up to 20 years for this evergreen to grow fully, which some may see as a turn-off. If you're looking for a low-maintenance evergreen that you can watch grow over the next 10-20 years, you should consider this one.
Since Magnolias are so low maintenance, it's not entirely necessary to feed them. However, you can mulch once a year to ensure it stays as healthy as possible. You may also need to do some pruning every spring, but nothing major.
Tip: Mulching is your best bet to promote faster growth. It would be best to spread mulch around the roots once every spring to protect them from heat and lock in moisture.
9. Monstera Deliciosa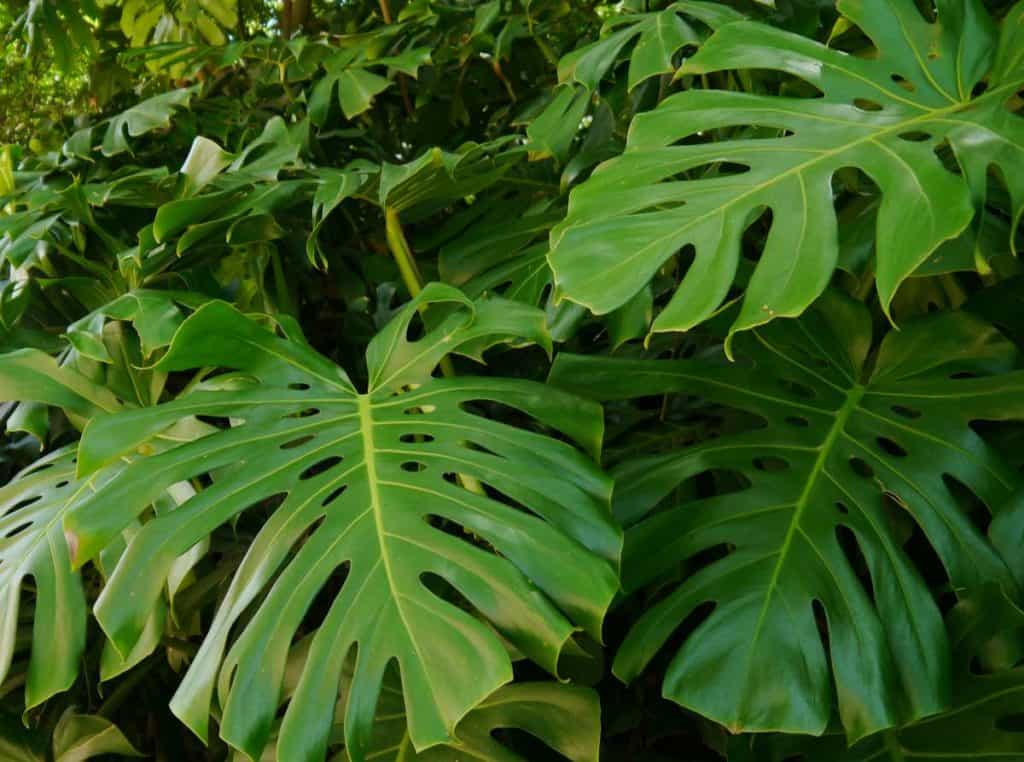 Monstera Deliciosas are native to Central America, so they do well in warmer weather. However, they are primarily indoor plants, so you can grow them almost anywhere in the world as long as they're indoors.
The Monstera Deliciosa likes a little sunlight but not a lot, so it's best to keep this plant in partial or complete shade. You'll need to grow it in a well-drained pot with drainage holes for the best results. It will grow between one and two feet per year. So, it grows at a moderate pace.
It would help if you didn't overwater it because it likes slight dryness. Leaving it to grow in soil that is too moist will hinder growth and damage the plant.
A Monstera Deliciosa plant is perfect if you're looking for something to brighten up your home and an evergreen that doesn't require much maintenance.
Tip: If you want to grow your Monstera Deliciosa outside, you can do so as long as the area is sheltered and not too cold. Be sure to keep it away from frost because it doesn't fare well in these conditions.
10. Pittosporum Tenuifolium
Pittosporum Tenuifolium is a fast-growing evergreen shrub that can reach as tall as 30 feet. Like most of the other evergreens on this list, the Pittosporum Tenuifolium does best in moist but well-drained soil. 
Although they are slightly hardy, they can struggle in cold weather. So, it's best to plant them in regions that don't get too frosty. This evergreen shrub has a summery look all year round because of the light green color in certain varieties. It's perfect for livening and brightening up many gardens!
You should plant this shrub in direct sunlight, and you should also keep it sheltered. It can deal with cool temperatures, but you shouldn't grow it in an area that gets frosty. Additionally, windy conditions are not appropriate for this shrub, so keeping it at a wall is the best option.
If you're looking for something to spruce up your garden quickly, this one could be the one since it's also a fast-growing shrub. 
Pruning isn't necessary if you're growing this evergreen as a standalone shrub. However, if you're using it as part of a hedge, you will need to prune it to keep it in shape. Pruning it three times a year should be enough to keep it a nicely-shaped hedge.
Tip: You should water this shrub continuously when it's growing. Watering isn't as necessary once it's established, but you should water it during dry seasons once it's fully grown.
11. Ilex Aquifolium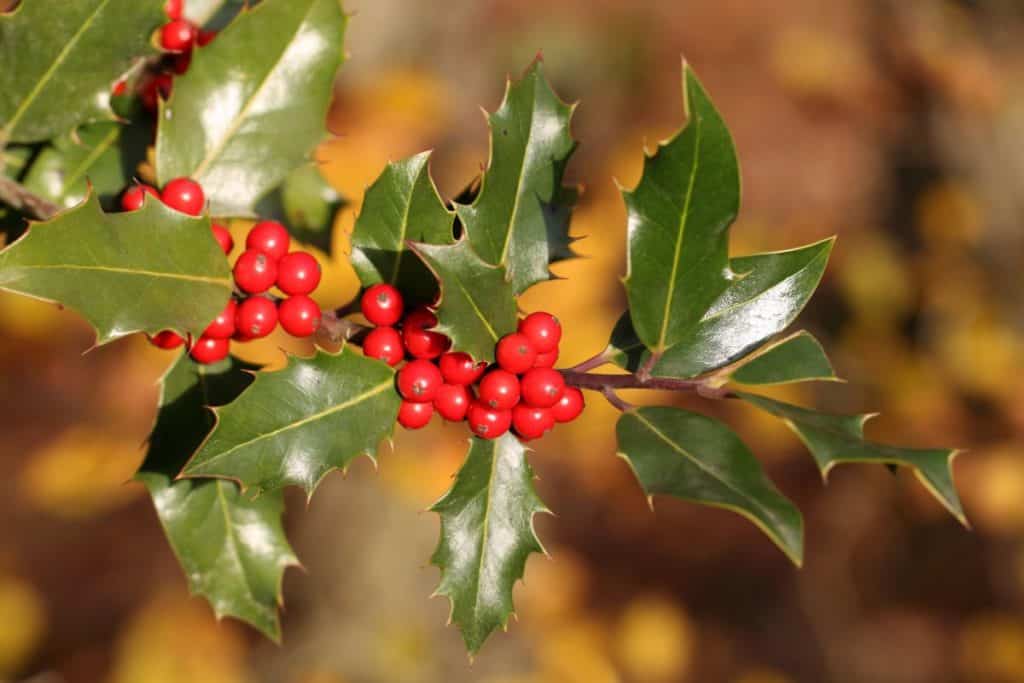 Ilex Aquifolium is more commonly known as "Holly" or "Christmas Holly." Even though it's a common plant during the holiday season, it stays green and vibrant all year long. It features sharp, spiky leaves, and the female plants feature red Holly berries, making it an iconic plant.
This plant doesn't need much pruning, so it's low maintenance and easy to grow. The only pruning you need to do is remove some branches during spring, but it's generally quick and easy.
It may be easy to grow and maintain, but it is not fast-growing. This Holly plant can take over 20 years to develop fully, so it's certainly a long-term investment for your garden. It's also a petite plant, perfect for smaller spaces.
Be sure to plant it in a sunny spot because it will grow best under direct sunlight. You can grow it in partial shade, but not full shade. This is a beautiful, decorative plant suitable for almost any garden because of its compact size.
Tip: Ilex Aquifolium attracts pollinators, such as bees and butterflies, so it's a handy plant to have if you want to attract pollinators to other plants in your garden.
12. Murray Cypress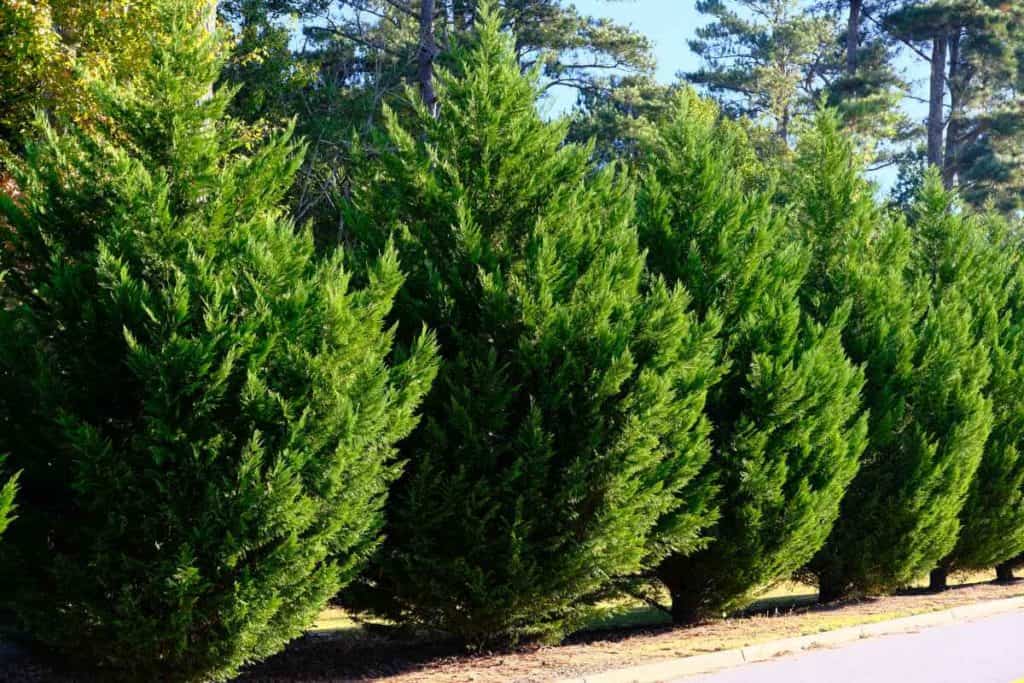 Murray Cypress evergreens are fast-growing and hardy, making them an easy evergreen to grow. They can survive cold, harsh winters, so you won't need to worry about it if you live in a frosty region.
The Murray Cypress evergreen is appropriate for more extensive gardens because of its size. It can grow up to 40 feet (12.19 meter). Because of its large and tall stature, it's most commonly planted for privacy between gardens. So, if you have a large garden and are looking for something to shield you from the neighbors, a Murray Cypress evergreen is one to consider.
Another reason these evergreens are so easy to grow is that you can plant them in any soil, as long as it's well-drained. They usually don't need to be fertilized, but you can fertilize them once a year with compost if the soil isn't already fertile.
Tip: You should prune your Murray Cypress to maintain and manage the shape. Generally, you can prune a Murray Cypress multiple times throughout the year.